In Australia, the food supply chain is responsible for approximately 23 per cent of Australia's greenhouse gas emissions, making it the second-highest emissions generating activity after power stations. This includes direct emissions from agriculture, and those attributed to energy, transport, food production, processing and distribution.
New South Wales Office of Environment and Heritage,
www.lovefoodhatewaste.nsw.gov.au
The Sustainable Streets and Community Plan (Chippendale):
encourages locals to purchase food from a world's best practice commercial urban farm;
encourages residents and businesses to buy food from local farmers within 150 kilometres of Sydney from a small farmer's market in Peace Park or a food box service;
provides over 2000 native trees, fruit trees, herbs, vegetables and other plants to be planted and maintained by the community in road, vertical and roof gardens over 20 city blocks by June 2012;
provides pre-approvals for public composting and road verge gardens using simple checklists;
introduces 10 native stingless bee hives to road verge gardens to be installed and maintained by the community;
ceases pesticide spraying in road verges; and
trials two pre-approved vertical gardens on the footpath.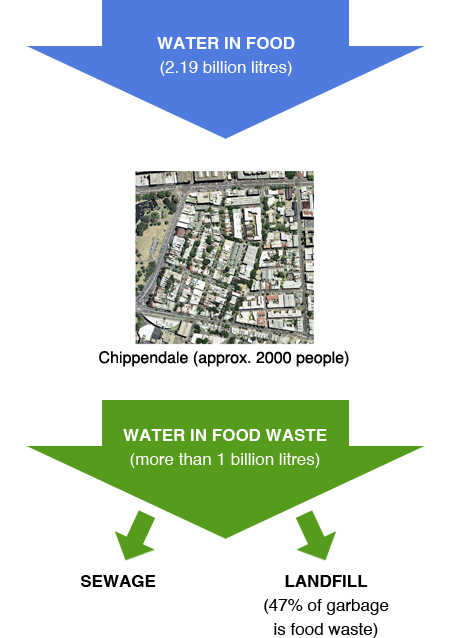 A Commercial Urban Farm
Any commercial urban farm within walking distance of the project area (about 400 metres) will be supported by City of Sydney Council if it offers food with the lowest embodied energy and water, or 'food miles', possible to Chippendale, adjoining suburbs and the central business district. The support will be provided if any farm demonstrates world's best practice:
all produce will be certified organic;
it will grow over 30,000 kilograms of vegetables or 10,000 kilograms of fish within walking distance of the suburb;
water will be harvested from the roof of the farm preventing that water becoming storm water that would pollute Sydney Harbour;
energy will be produced on-site from renewable sources;
excess water will be sold and used for gardening and irrigation;
data will be published daily on the internet showing water use, energy use, surplus water, vehicle movements and food production demonstrating major environmental savings compared with 'business as usual' models (for example, a tonne of commercial lettuce will typically contribute to over 2 tonnes of climate pollution, but lettuce from an urban farm within the Council's area will produce negligible amounts); and
the farm will offer produce to the general market allowing those who purchase the food to demonstrate they have reduced their ecological footprint for food consumption by up to 100 per cent.
The City of Sydney Council will:
apply its Ethical Food Policy and give priority to purchasing food from any urban farm providing food as described above, including publishing daily data on the internet and maintaining certificates of currency for its organic production;
give priority to any development or other application required for the project, and will make a determination in the shortest feasible period and in any case no longer than 60 days after the application was received; and
give priority to and coordinate meetings or approvals required by other government agencies.
Rate Rebates for Composting
In Chippendale public compost bin users must register their use of the bin with Council.
After a compost bin user registers they are entitled to an annual rate rebate for the first two years of the initial period of the Plan (July 2011–June 2013) in the amount of 300 dollars a year and for so long as the registrant complies with the conditions below.
To register property owners or their tenants must first:
complete a road gardening workshop provided by Council;
replace their existing Council issued garbage bin with a bin that is half the size or less; and
register on the Council's website for the project and provide via that website (or, where the registrant has no internet access, then a postal return to the Pine Street Creative Arts Centre) a monthly statement of the amount of organic matter they have contributed to the road garden compost bins, the amount of compost from the bins they have placed on local gardens and to certify that they have maintained at least one road garden compost bin once that month.
This rebate applies as long as the registrant places all their garbage in the smaller bin only and continues to use the Council's recycling bins for recyclable materials.
The General Manager's annual report will contain an assessment of the costs and benefits of the rate rebate. It will also make recommendations for future rate rebates beyond the initial two-year trial period.
Council Composting Responsibilities
Council will in the year ending June 2012:
install and maintain in Peace Park – with the participation of the residents, workers and businesses – a minimum of 10 compost bins with a minimum storage capacity of 2,900 litres; and
provide at least 4 gardening and composting workshops at Pine Street Creative Centre for residents and businesses wishing to register for use of the compost bins.
Funds for Composting, Food & Other Trials
Funds for composting, food and other trials will be drawn partly from existing funds created for such purposes. Money that Council obtains from domestic waste rates in excess of the costs of managing the waste is quarantined to be used for improvements in waste management. The amount of money in this fund increased by 746,000 dollars in the last financial year, which is to be available to support the initiatives in this plan to reduce waste. For City of Sydney's income from rates and domestic waste see the Council's annual reports (in the 2009–2010 report pages 104 & 117 are relevant).
New Council & Community Web Site
Council will create a new website to increase trust within the community, and between the community and Council.
Council officers will be able to use the website to contact residents and businesses who have planted trees, are responsible for road compost bins, or are receiving a rate rebate or other incentive under this plan. The community members involved in these activities will also be able to contact Council members.
Each resident or business wishing to plant a tree or compost on the road must first qualify themselves by taking the workshop courses offered by Council. Upon completion of the course that person or business will be given access to the Council's website.
Photographs, documents and other information will easily be uploaded or downloaded from the website, which will be designed to satisfy the needs of users with slow access to the internet.
Access to the Council's website and training on using it will be provided at the Council workshop. Free advice will be available at the Pine Street Creative Arts Centre.
Complaints, questions and suggestions about road gardens, composting and vegetation will first be raised between residents and businesses on a one to one basis through the website. It may be used as a source of information and ideas for dealing with other issues that arise in the community.
Council will moderate the website.
Pre-approved Composting
Before you can have a garden you need soil. So composting to grow soil is an essential part of this plan.
Any resident or building owner may install a compost bin on the road outside their building provided they first obtain agreement from each occupant of the properties on either side of theirs.
This trial supports achievement of a key performance indicator for the Council's management of its vehicle fleet which is:
Manage the light and heavy vehicle fleets to reduce CO2 emissions and encourage low emission driving behaviour. By 2014 reduce emissions by 20% across the City's fleet.
Pre-approved Road Verge Gardens
Any resident or building owner may build road verge gardens if they include the following features:
At least one pedestrian crossing across a road verge garden will be provided by road verge gardeners every 30 metres. These will be at least 500 millimetres wide and, where practical, 750–1000 millimetres wide.
Leaky drains will only be installed with the consent of the property owner whose property is adjacent to the drain. Leaky drains leak rainwater into the ground using agricultural pipes with holes. They will be similar to the design provided at Council workshops where training in installing the drains will also be provided.
Raised garden beds will be similar to the Guidelines in the photograph below, but need not be exactly the same.
Is Road Verge Food Safe?
Verge gardens are to be built and maintained by residents. The first thing people ask about gardening by the side of the road is usually 'is it safe?'
Phil Mulvey, of Environmental Earth Sciences, advises that road food is safe:
During the 1990s a lot of research was done on lead emission from car exhausts on main roads. It was found that on busy roads lead emissions were limited to 30 centimetres high and within 15 metres of the edge of the road. There was no noticeable impact on less frequently used non arterial residential streets from car exhausts. The removal of lead from fuel in Australia has resulted in lead no longer being a health issue for emissions. Hydrocarbons and benzene degrade rapidly and do not impact plants, in fact they are a growth stimulant at low levels.

Road verges may historically have elevated metal levels and PAHs levels in soil from runoff of zinc roofing and from fill from unknown sources. This applies to all soil in the inner city area. Plants have protection mechanisms to prevent the uptake of lead. Copper and zinc are trace elements and can be taken up but this is beneficial for humans. It is recommended for all root crops grown in home or public gardens that the roots be washed and peeled before consumption. Furthermore as recommended by the Department of Health all food for consumption should be washed prior to consumption. If this simple common procedure is undertaken health impacts from food grown on roadside verges and other simple public land is not expected to cause any health issues.
As some verge gardeners have learned (usually the hard way) it's important to work closely with Council. When this plan is made Council will:
promptly direct its staff and contractors not to spray pesticides on the road verges of Chippendale;
promptly issue a direction to its staff and contractors to work in partnership with the residents and businesses of Chippendale to ensure the road verge gardens are supported (the direction will be published on the Council's website);
commence and continue to quantify the costs and benefits of the current arrangements for management of Peace Park, road verges, Victoria Park and this plan for at least the first 3 years of the operation of the Plan; and
publish on its website each December the costs and benefits data gathered from the monitoring including the distance travelled to and from the project area by contractors, the energy and water used in the travel, materials used, and operations in the parks in the area.
The residents, businesses and workers of Chippendale who garden in the road are entitled to a rate rebate when they:
plan, garden and communicate according to the pre-approved methods and designs in the Plan;
provide and maintain at least 2 local points of contact accessible to any person, including a website, phone number and street address for each contact; and
attend at least one gardening and compost workshop each year provided by Council.
Cessation of Pesticide Spraying
Council has an Ethical Food Policy which commits it to buying pesticide-free food. To help achieve this Council, upon commencement of this plan, will cease pesticide spraying of road verge and gardens in the whole of Chippendale.
At its workshops Council will provide and demonstrate how to deal with garden pests without insecticides and its contractors will attend those workshops to learn these skills.
Pre-approved Vertical Gardens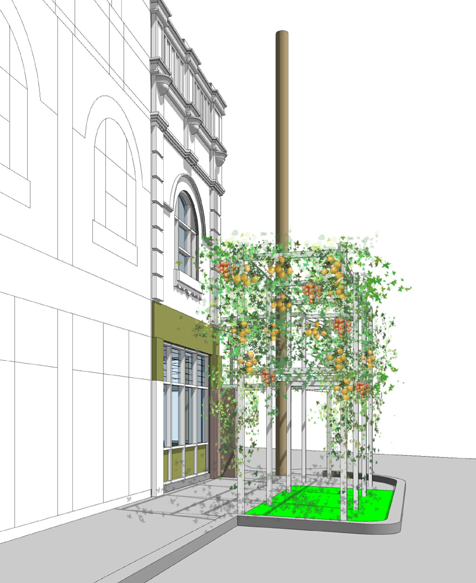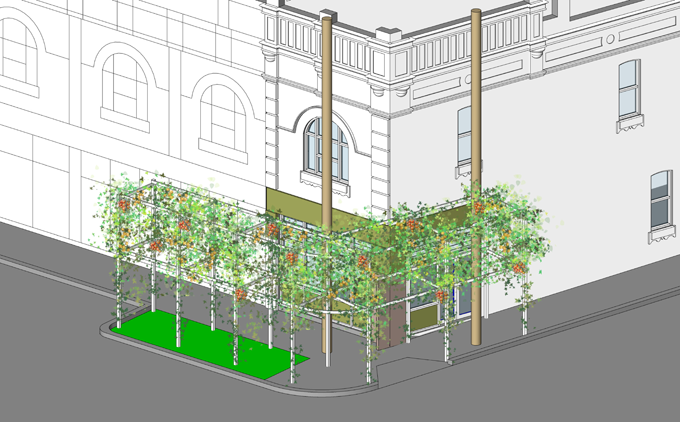 The two vertical gardens, one for Café Guilia and one for Toby's Estate Cafe, are pre-approved by this plan for a trial demonstration project in the year ending June 2012.
The Plan will trial and demonstrate vertical gardens so other businesses and property owners may copy them. The trials will show how to:
cool main street buildings, making them more comfortable and cutting cooling costs;
grow food on the street for any person to harvest;
harvest rainwater and make road gardens self-irrigating using devices like flow through planter beds; and
serve the needs of those seeking disabled access and all who run a business, talk, contemplate, eat and enjoy the street.
These garden designs include structures external to a building. They will be situated on the road side edge of the footpath with the building walls kept clear.
Any resident or building owner may build other vertical gardens, which are also pre-approved, provided they submit drawings to Council accompanied by a signed statement stating that they meet the requirements below.
The structure and plants do not impede pedestrian and wheelchair access.
The structure is certified by an engineer as safe for the particular installation.
Kerbside drainage is not impeded, the horizontal plane of the gutter is left clear for at least 250 millimetres from the gutter's vertical edge and the pedestrian level of the cafe surface is the same as the pedestrian surface of the kerb edge.
Productive and decorative plants are both used and the fruits, leaves or foliage are available for harvesting by any person. A sign invites anyone to harvest there.
Rainwater is used to water the plants and, preferably, is applied in a self-irrigating mode without the use of pumps (see, for example, the flow through planter beds design below).
The structure must make use of recycled materials where possible, and be light coloured to reflect sunlight and thereby ensure the lowest possible temperature for the soil.
The following plants will be included: one grapevine able to fruit in the humid Sydney climate, one passionfruit, two rosemary, one citrus, six strawberry and one midgenberry.
Clear visible sight lines must be maintained for pedestrians, cyclists, persons in wheelchairs and other users of the street and footpath.
Generally, the structure will be fixed to the pavement to allow pedestrians and wheelchairs to move freely under or beside it and the building it is fixed or adjacent to.
Successful applicants and the Council will sign an agreement similar to a City of Sydney maintenance agreement (Note: the agreement takes the same form as this pre-approval schedule).
The applicant will remove the structure at the end of the trial period if Council makes a written request explaining their reasons for doing so.
If Council does ask for the structure's removal it will pay for the removal up to a maximum sum of 3,000 dollars.
To promote the trial of the 2 vertical gardens Council will subsidise the cost up to a maximum of 3,000 dollars for each trial. The subsidy will be payable within 7 days after confirmation that the pre-approved checklist has been complied with in the drawings submitted. The subsidy moneys are repayable if the structure and planting has not been completed within a month of the drawings being returned approved by Council.
Each cafe owner will provide a monthly report of up to five bullet points to Council including complaints, supportive comments received or lessons learnt. This report will be published without amendment on the Council's website within 7 days of it being submitted to Council.
Each cafe owner will take part in the soil, water and plant testing programme to be conducted for all trial demonstration projects. This includes observing the quality and quantity of edible fruit, leaves and water.
Council will grant approval and endeavour to obtain any approvals which may be required from any other agency or body to enable the gardens to be in place no later than October 2011 (based on original 2011 targets).
The outcomes of these two trial demonstration projects will be reported to Council in February 2012. Recommendations made about expanding the trial or varying it will be made in the year commencing July 2012 (based on original 2011 targets).
Native Stingless Bee Hives
Ten native bee hives will be located in the streets on raised platforms. Three hives will be placed in the one block trial in Myrtle Street (between City Road and Rose Street). Three will be in Peace Park and 4 will be placed in Meagher Street between Abercrombie and Regent streets.
The bee hives are safe for humans as the native bees do not sting.
Besides making honey, bees increase the productivity of the local plants and trees. They also increase the food available for birds and insects, adding to the biodiversity of the area.
The hives need no maintenance; the bees find their own water and food. About every 18 months to 2 years, the community may, if they wish to, split the hives in 2 and donate the new hives to other suburbs. Thus, after 10 years, there may be over 80 natives stingless bee hives in other suburbs. Insects, flowers, trees and other plants will be strongly supported at almost zero cost to anyone. Simple timber box hives can be made by local craftspeople and TAFE Outreach, with which Council has existing working arrangements. By using recycled timber crates and other recycled materials the only costs, if any, are expected to be less than 100 dollars a hive box.
The Sugarbag honey, if harvested, has a wholesale price of over 300 dollars a kilogram. The potential exists for a local social or other enterprise to be created to harvest and sell the honey.
Bee hive maintenance will be carried out by the community. It will be taught as part of the community gardening workshops in Chippendale at least twice a year at the Pine Street Creative Arts Centre.
After the first 3 years, with some 30 or more hives in the suburb and adjoining suburbs, the level of biodiversity is expected to rise significantly. Levels will be monitored as part of the development of this plan.
Pre-approved Pop-Up Cafes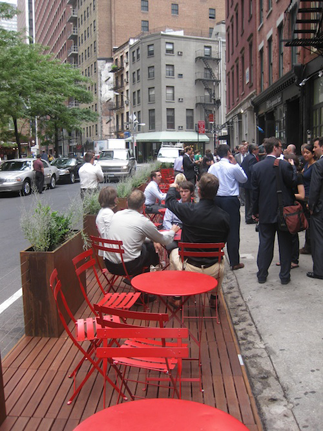 Any cafe owner may build and operate a pop-up cafe if they submit drawings to Council. These must be accompanied by a signed statement which specifies that they meet the requirements below.
If it has a platform and is not on matting, grass or other material placed on the road surface it will be as flush with the sidewalk as possible (a minimum of 3 metres to provide wheelchair access).
It will not impede kerbside drainage.
It will allow for easy access to the space underneath.
It will be load-bearing to at least 340 kilograms per 0.1 of a square metre.
It will be publicly accessible, with appropriate signage to indicate this.
It will have vertical elements (for example, planters or umbrellas) so that it is visible from vehicles.
It will be finished with quality recycled, sustainably produced or harvested products.
It will include at least one edible, productive plant.
It will include a continuous physical barrier along the street facing perimeter while maintaining clear visual sight lines to the street.
It will be open to pedestrians and the public on the sidewalk-facing side.
It will not be wider than 2.8 metres.
Its maximum length will be no longer than the frontage of the cafe it is outside.
It will have chairs and tables that can be moved indoors or locked and stacked outside each night.
Cafe owners or building owners must sign an agreement in the form of the maintenance agreement at: [website to be inserted when created]. This agreement requires that the adjacent property owner, installing body or some other body will generally be responsible for maintaining the pop-up cafe and providing appropriate insurance.
Trial Farmers Markets at Peace Park
In the year ending June 2012 Council will trial a mini-farmers market in Peace Park to be leased or licensed to stall holders on the following basis:
a maximum of two stalls in an area not exceeding 20 square metres;
to sell only produce brought directly to site from local farms and sold using local or farm workers;
to be operated by a person or persons living in Chippendale or within one kilometre, or by a farmer;
to operate between the hours of 6:00 a.m. and 3:00 p.m. on Saturdays; and
all waste food to be composted in the park or road compost bins.
A sustainable village fosters conversations in the street; an essential ingredient of village life.
Community Garden Workshops & Partnership Days
Council members and the community will garden together. By gardening as a group we will grow goodwill in the Chippendale village community. We will share knowledge, equipment and work together in training workshops.
Partnership Days
Twice a year commencing in 2011 Council will run a partnership day. Council staff can volunteer along with local residents, businesses and workers. This day allows staff from waste, cleaning, parks, planning, sustainability, communications, financial and other departments to meet and garden with volunteers from the community. Together staff and residents can grow to trust and understand each other, and share a wealth of information beyond quantification in any financial budget.
Gardening & Financial Incentives Workshops
At least twice a year Council will provide gardening workshops at the Pine Street Creative Arts Centre. The following subjects will be demonstrated in the centre and the streets:
road verge composting;
design, installation and maintenance of leaky road verge drains;
how to register and use the Council website where data will be provided by participating residents and businesses on composting, car, bicycle, energy and water use, and other matters;
how to split and maintain native stingless bee hives;
how to build and maintain a vertical garden;
how to plant and maintain fruit trees, herbs and other plants;
how to build, install and maintain a road verge garden;
how to maintain the gardens in Peace Park;

how to claim and remain qualified for rate rebates and other financial and regulatory incentives; and

how to prepare and submit data to the Council's website about trial demonstration projects, other Plan actions, and complaints and suggestions for improvement in the implementation of the Plan.
Gardening Traineeships: Yaama Dhyan Cooking School
Two part-time gardening traineeships will be provided in the first year (ending June 2012) for Aboriginal youths and offered in partnership with Yaama Dhyan Cooking School. Trainees will learn to garden in the Chippendale road gardens and other gardens.
Working with Asylum Seekers
Asylum seekers with appropriate visas can attain skills setting up and maintaining gardens, and working on art projects in Chippendale. Asylum seekers also bring to the project their own sets of skills and life experience. For example, some may come from agricultural backgrounds, and may teach locals about traditional farming methods.
Research
Council will in the year ending June 2012 publish research about the trials in this plan, which will include data from monitoring carried out on the following:
impact of road gardens on soil and water quality; and
any impacts of the trials on water flows, rising damp and the quantity of water harvested by the trials.
Further data and benchmark information is provided for in the Plan in other chapters.